White Papers: What Are They and Why Are They So Effective?
A white paper is a valuable, authoritative, research report that provides useful information and educates your audience. They help the reader understand an issue, help solve a problem, or decide on a course of action. White papers are considered to be the most influential form of business collateral and 76% of people have used white papers as part of their decision making process.  But, that's not all, they can also generate leads and help secure client acquisition.   At the very least, white papers help establish your organization as a thought leader in your industry.
3 Types of White Papers
While categories for white papers are diverse there are three main formats when writing white papers:
Backgrounder
Numbered List
Problem / Solution
Each is summarized in the table below: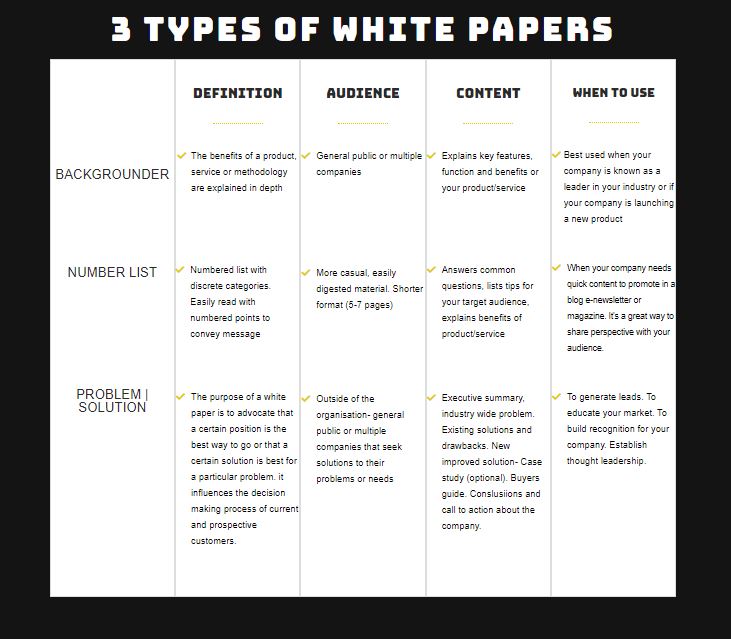 More businesses are using the power of white papers to drive trends and establish authority. It wasn't too long ago that marketing trends were predicting the death of white papers with the growth of digital marketing, eBooks, video, podcasts, and webinars. White papers may not be as sexy as video or eBooks but in terms of marketing, they are probably the best sales lead generation technique available in the B2B environment.
According to a recent poll, 79% of B2B buyers listed white papers as the material they were most likely to share with colleagues, and 68% of viewers of white papers contact organizations who invest resources and engage in the white paper for more information.
The Clear Benefits of White Papers
Act as an educational, sharable resource
Help establish your business as a thought leader in your industry
Combine the persuasiveness of an article with solid research and data
They educate without selling, offering something of high value, free of charge
Take complex information and convert into an easily digestible format
Non-threatening
Meet the emotional, rational, and intellectual needs of prospects
Low cost in terms of ongoing benefits. Can be repurposed in multiple formats.
Why Are White Papers So Effective?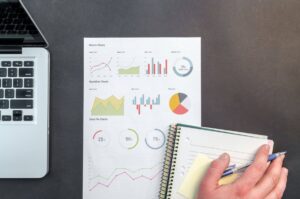 If you're not convinced yet of the power of white papers let's look at the data. Many decision makers turn to white papers for information. Eccolo's Media Study Survey reported that 83% of respondents said that white papers were moderately to extremely influential in their decision-making process. Additionally, 71% of B2B buyers have used white papers and Forbes has consistently highlighted the benefits of white papers for lead generation and education.
White papers have a long, trusted history and their uses have continued to evolve with digital marketing. White papers remain a highly effective and influential tool for generating leads and providing useful information for potential customers. Don't underestimate the value of a well written, data rich white paper. White papers are alive and well. They should be part of every content strategy.
Your Needs Are My Priority.
Let's Unlock the Power of Your Stories
I work closely with B2B and B2C companies providing useful and engaging content that converts viewers into customers.