How to Find and Work with a Professional Case Study Writer
The world of marketing changed dramatically in 2020. Political, environmental and health challenges meant that business had to adapt quickly and meet the demands of a 'new normal.' An online presence became essential. But what has not changed, and in fact has increased, is the need for customers to connect genuinely with your brand and services.
Whether B2B or B2C customers are looking for brands they can trust to meet their needs, solve a problem or just make their lives easier, case studies still reign supreme. Why? Because they tell a story and everyone loves a good story, right?
Case studies showcase your best success stories. They allow you to talk about how you solved a challenging problem through the words of your customers. Case studies are your best marketing strategy in building connections with your customers in a genuine and trustworthy way without the big sell.
2021 will be the year that marketers tap into their customers need for authentic engagement. In the recent (December 2020) Executive Marketing Research Survey: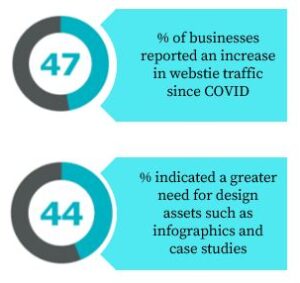 Businesses need to approach their marketing with the premise that your audiences comprise of real people, whose brand perceptions are based on their HUMAN experiences and now more than ever, case studies provide that professional empathy and human connection.
So, how do you find a Case study writer that will protect your company brand and enhance customer engagement?
Avoid Content Mills
I'll be brutally honest- content mills are not the answer. You get what you pay for as the old adage goes. Content mills are not focused on your brand, your reputation or your customers. They are there for a quick turn-a-round.  Bidding sites do serve a purpose for some copywriters, but they focus on price NOT quality. If you truly want to connect in a real way with your audience then invest in a copywriter that will take the time to research, conduct thorough interviews and produce a case study worthy of your business. Competitive bidding sites are not the answer.
There are no short cuts here if you want quality.
STUDY – EVALUATE – REVIEW –  REPURPOSE
Study Samples of Their Writing
You may say that you don't have time for this but if you are going to spend money employing a case study writer you need to establish the quality of their writing first. Oftentimes, the copywriter will have samples of case studies on their website. If not, ask for them.
How do they read? Is the tone of voice professional? Can you imagine your business name at the top of the case study?
Remember, a good writer will be able to adapt to your business needs and product.
Evaluate Their Professionalism
If you made contact with a freelance writer did they respond in a timely manner? If not, then it is a good indication of the way they conduct their business.
A phone conversation is the best way to gauge their approach to conducting business. Did they ask questions about your business and what kind of case study you had in mind or did they jump straight in with the cost? Was their manner professional, yet approachable. Remember, they will be interviewing your customers so you want a writer who is empathetic, patient, approachable and easy to work with.
It may not be possible to assess all their qualities over the phone or via email, but you will get a sense of their professionalism via the tone of their emails and how they approach the conversation. You've succeeded in business for a reason- use this business sense to determine whether the writer is a good fit you.
Review Their Website
Chances are you have already done a google search to find a freelance writer who specialises in case studies. You may have come across their writing on LinkedIn. The point is that a writer's website is a guide to their level professionalism. If the site is well ordered, easy to navigate and is well written then you are already on the right track.
One thing to consider is the origin of the website. Did they construct it themselves? You will be able to find this at the bottom of the page where the copywrite notice is. If an external company has created the website, why?
A writer who knows how to construct a website, present the information in a user friendly way and writes well will also bring these skills to your case study.
If the website has a blog, make sure you read a few posts to determine whether the tone of voice resonates with you. Blog posts tend to be more informal than long form writing so it will give you a sense of their personality.
Where your writer is located geographically is less important than their level of skill. Digital technology has removed geographical barriers, but if you want a case study written in English, you need to know that your case study writer is proficient and has an excellent knowledge of English grammar.
Repurpose
Your case study should be repurposed into new marketing materials. With some quick modifications in format and length, it can be used for brochures, blog posts, presentations, social media and for your website. Your copywriter may be able to repurpose the case study for you into multiple formats. Ask. It will save you time and the hassle of having to manage this yourself.
What Will a Case Study Cost?
If you have already decided that you want to include a case study as part of your marketing strategy, then you will have a budget in mind but it's important that you are realistic with the cost.
Writing a thorough case study requires the writer to research, conduct interviews and produce a well written copy. All this takes time. Generally, case studies will cost between $1000- $1500 for a two page, professionally written piece. Anything less and you should be asking why it's so cheap.
Remember, this is your business and your customers. Don't chance your reputation with a substandard approach.
You need to be able to relax knowing that you have a professional taking care of the writing and your customers. You also need to know that you will be getting quality and return on your investment.
Finally…
Content marketing is a critical aspect of any marketing strategy and is only becoming more and more important now that field marketing has declined due to COVID-19. Investing in quality long form content to establish your authority and thought leadership will play a major part in driving traffic to your website. It's important to get the right copywriter for your project.
Ultimately, you want your readers to recognise themselves in your case study. To identify with the problem and come to the conclusion, " if that worked for them; maybe it will work for me."
A good case study writer will make this magic happen.
Your Needs Are My Priority.
Let's Unlock the Power of Your Stories
I work closely with B2B and B2C companies providing useful and engaging content that converts viewers into customers.